Fairytale Journey Through The Endless Clockwork To The Edge Of The Universe Where Time Ends

Märchenhafte Reise durch das endlose Uhrwerk bis zum Rand des Universums wo die Zeit endet


Die Reise zum Rand des Universums?

Sicher !

Mit etwas Phantasie startet man die Reise mit den Geräuschen der Nasa in den luftleeren Raum.
Dann folgt Galaxie an Galaxie, Schliesslich die letzten paar Hyper Lichtimpulse bis zur Galaxie HDF 850.1
welche sich Stand heute (Februar 2021) am Ende des expandierenden Weltraums befindet.

Dort ist am Schluss des Songs sind auch Zeiger und Mechanismus der Uhr nicht mehr zu hören.
Alles endet aprupt, jedoch:

Dafür genehmige ich mir dort eine gute Tasse Cappuccino.........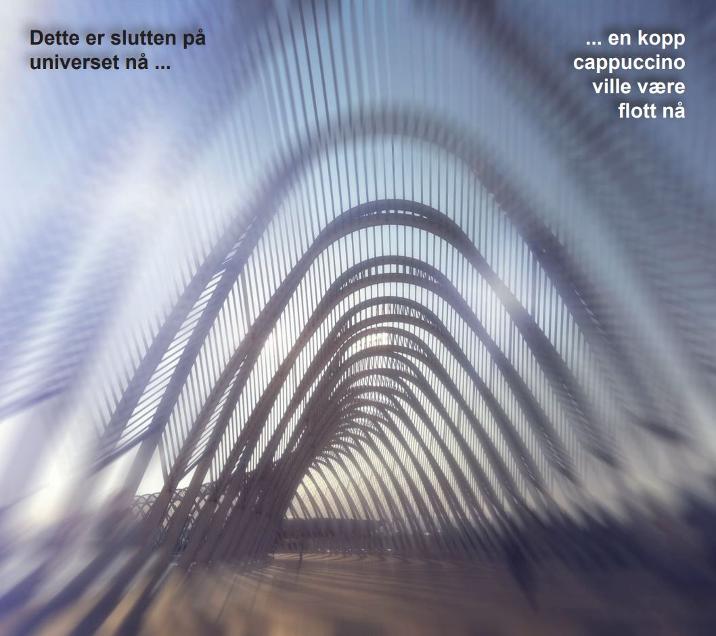 Am Ende die märchenhafte Reise durch das endlose Uhrwerk bis zum Rand des Universums wo die Zeit endet...........

Auf dem Foto ist Calatrava's Agora auf dem Olympia-Komplex in Athen zu sehen


And then................The End


© Copyright 2021 Pitmusic